AT-PAC is a family-owned and operated business that has become a leading provider of scaffolding rental and sales both in the US and globally. Founded in 1995 with six locations across the United States, AT-PAC provides a range of engineering and design services to its customers, including on-site management solutions through their sister company GSS using its technology platform Hi-Vis to manage scaffolding execution on large scale industrial and commercial projects.
AT-PAC founded GSS in 2016 based on an "unconventional philosophy through work packaging, early planning and engineering" according to Managing Director at AT-PAC, Mathew Horwood. GSS shows companies "how major projects can be executed differently to the way that they currently are" across the U.S., according to Mathew. AT-PAC take a "more robust approach to the scaffolding program from a planning and engineering perspective," which is, as Mathew explained, something quite uncommon in the industry. AT-PAC takes an early focus on how the company can get the most out of the scaffolding resources it will have on-site, attempting to design and engineer the scaffold to ensure it can be used for multiple disciplines and trades after being erected once. By adopting this approach, the company can minimize the disruption caused by the team going in with more scaffolding which, as Mathew points out, can raise costs and cause schedules to slip.
GSS assists customers in ensuring that the "utilization and effectiveness" of the scaffolding programs on their sites is at the "highest level – underpinned by our scaffolding technology Hi-Vis." This innovative software "enables customers to have full transparency and visibility" into the scaffolding program onsite through "live data analytics and dashboards." As Mathew is quick to explain, this gives customers quality assurance, schedule predictability and cost certainty – three important things to the team at AT-PAC. GSS and Hi-Vis are "definitely changing the way that scaffolding is perceived on large scale industrial projects, particularly facility owners and large EPCs," Mathew says.
Giving customers schedule predictability and cost certainty is important to AT-PAC. Mathew cites "customer focus" as the key to the company's long-standing success, explaining "we listen to our customers – we're very close with our customers." One of its main priorities is doing the right thing by the customer and for the customer the first time; "when we reach a new customer, we ensure that we stick to them – we don't want them going anywhere else. If we tell our customers, we're going to do something we have to stick to our word."
"One of its main priorities is doing the right thing by the customer and for the customer the first time."
AT-PAC is extremely customer service focused, with Mathew describing the team as "attentive and responsive." He goes on to explain that remaining focused on the customers and ensuring they're given the best service that the team possibly can is a driving focus of the company. Furthermore, Mathew acknowledges that the company places high expectations on itself and that this is "definitely something that has led from the top of our business all the way down."
AT-PAC can provide custom scaffold solutions for the unique needs of every client, something which Mathew says goes back to the company's in-house engineering and design team. He explains that they "work very closely with our customers to ensure that we understand their needs, we know exactly what the scope of work is." Customer satisfaction is a priority at AT-PAC, with the team constantly ensuring that the customers are getting "exactly what they need from us and that our designs and the engineering that supports that is exactly what the customer needs." The company doesn't use an "off the shelf design product," stating that everything they do is "custom for our customers" right down to the calculations and any required PE (Professional Engineer) Seals – all is done in house to ensure quality service and constant communication between the team and the customer.
AT-PAC is one of the largest providers in the country of the OEM Ringlock System and has a full range of scaffolding and shoring solutions at its disposal to ensure that whatever the customer needs, the team has. From boiler founding systems to large span access, stair tower access, dancefloors and trip-free work zones, AT-PAC can accommodate it all.
AT-PAC was awarded the Global Pass project in Port Arthur, Texas, in late 2021 and has been working on-site for the last six months on the largest LNG construction project currently being undertaken in the United States. The company was selected as scaffold material, planning and technology provider for this project, encompassing all its services. This came off the back of several major projects completed for McDermott over the last couple of years, with this being the company's second major LNG project since 2018 in the US. Mathew explained that AT-PAC was selected for this project due to its "equipment availability and long-tenure in the LNG history" having completed 14 major LNG projects globally, and 4 in the US, stating "we're probably the most experienced scaffolding equipment provider globally on these large-scale industrial projects – particularly LNG." AT-PAC have an accomplished background in being able to provide predictability with scheduling and costs, and "mitigating the risk on these large industrial projects."
The company recently completed a project with ExxonMobil/SABIC (GCGV) in Corpus Christi, Texas – one that Mathew describes as a "standout" project for the company. The reason for this, Mathew explains is because this was the first time Exxon had "taken a different approach" – AT-PAC's approach – in managing scaffolding on this facility. The company has been working there for over a year now, with Mathew explaining that "the cost savings that we have been able to realize for them and materially show them are well into the 25 and 30% across the different areas of their projects." Excitingly for those at AT-PAC, this is something Exxon is looking to recreate in different U.S. facilities, according to Mathew.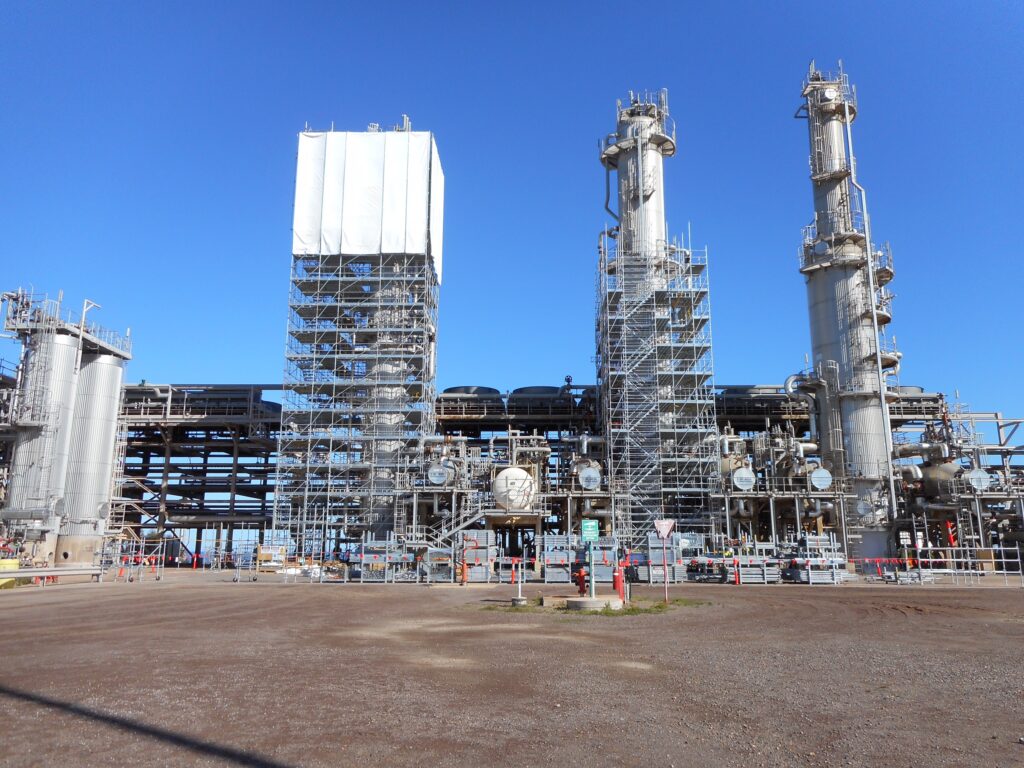 Mathew is incredibly proud of his team, describing the team working at GCGV as a "fantastic bunch that are really delivering on the value that we promised we would deliver to Exxon/SABIC." According to Mathew the culture at AT-PAC is very team-focused, explaining that no matter what part of the country the team is working in, they are "constantly working together" to provide the best service possible to the clients. Mathew describes his team as being made up of "the best people in the industry," stating that this is what he is most proud of. Mathew went on to explain how there is not one employee he would "swap" with someone else; "we've really put together a team of individuals that [are] committed to the success of our business, committed to the success of our customers and committed to their own success." He goes on to explain how the team have not only set goals for the business, but also for their own personal growth – something which AT-PAC fully support; "We want our people to be successful – the only way we can be successful is if they're successful."
In terms of the outlook for AT-PAC in 2022, Mathew describes it as "very bright." After navigating its way through the pandemic, the company had their best year globally in 2021, with Mathew saying "we've really come out with a bang" in 2022. This, Mathew states, is something the company is very proud of, especially as they were fortunate enough to come through the pandemic as a "much stronger business." Mathew owes this success to his team, explaining how it was the individuals on the team who navigated the business through this period of unprecedented challenges, saying "I'm very proud of the team that we have, and I think we're only going to get stronger from here." AT-PAC is continuously looking to evolve the business, and in the next 3 to 5 years are looking to double branch locations across the US to better serve their customers, with Mathew explaining that AT-PAC is "increasing [the] amount of assets we have on the ground significantly over the next 2 to 3 years so that we're able to have as many products and services available as close as we possibly can be to our customers," stating "it's an exciting time to be a part of AT-PAC."